Isaac Levy and the origins of Automata MB Link for Zoom
Isaac has worked in the software industry for nearly a decade. He has extensive experience in distributed computing, both through jobs (Google, Amazon) and as a focus of his Masters in Computer Science from University of Texas at Austin. In 2015, he decided to leave the Bay Area and return to his home state of Vermont. Alongside his career, he has contributed to lichess.org, a non-profit chess website, and has taught Computer Science at the University of Vermont.
Isaac has been involved with Sangha Studio since 2018, as a member, a volunteer, and currently as their technology consultant. In March 2020, in response to the COVID pandemic, Sangha moved their classes entirely online, hosted via Zoom. After seeing the administrative labor Sangha needed to host an online class, Isaac offered to use his expertise to streamline the process. In the fall, he founded MB Link for Zoom after hearing from other studios in desperate need of similar automation.
Sangha's software was designed to be extremely stable and with minimal manual intervention. Our current offering, MB Link for Zoom, has even more safeguards to ensure it does not introduce unreliability into your studio's processes.
In his free time, Isaac goes for hikes year round, attends spin classes (currently via Zoom) and has been an avid yoga practitioner since 2010. He insists that any website errors are due to his spunky cat, Sam.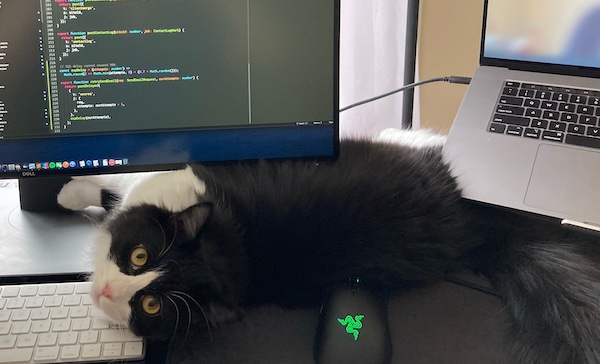 Taylor Downs
Taylor started her career working in digital marketing first in the wellness industry, then in the start-up world. After years of managing consumer lifecycles and digital touch points, she transitioned into nonprofit management at Sangha Studio, Vermont's first and only nonprofit, donation-based yoga studio. Here, she used her extensive experience working with Mindbody and customer support to collaborate with Isaac to develop MB Link for Zoom to successfully streamline the online class management of over 70 online classes per week in response to COVID-19.
After moving to the west coast, Taylor joined Isaac to make MB Link for Zoom available to any studio managing online classes. She understands the many hats studio administrators wear and aims to help studios succeed by prioritizing their time on the plans and people that matter – not on their software.
You can also find Taylor teaching yoga online or swimming and hiking with her partner in Orange County, California. She blames any typos in this bio on her sassy cat, Pretzel.